While many of you were very enthusiastic about the planned Family Camp, we unfortunately did not have enough interest to make the event feasible. We still want to connect, learn and hang out as a big Taking Ground family, though, so we are moving location from Thirsk to Teesside and holding the Taking Ground Family Weekend! It will run on 5th & 6th May.
The weekend will have all the best bits the Camp was planned to have – quality teaching from Carl Beech for the adults, fun youth and kids' groups, social time, and a hog roast! – but over a full Saturday and a Sunday morning at the Oakwood Centre instead. This means we can still all gather together as a family of churches across Taking Ground, still benefit from all of the amazing plans that have been put together and for a fraction of the cost!
Taking Ground Family Weekend is open to Hexham Community Church, Birtley Community Church, Sunderland Community Church, Durham Community Church, TVC Church, Middlesbrough Community Church, Easingwold Community Church, Community Church Leeds, our church plant in York, and Embrace Church Darlington.
Click below to see a preview of events at the Family Weekend.
See the weekend programme here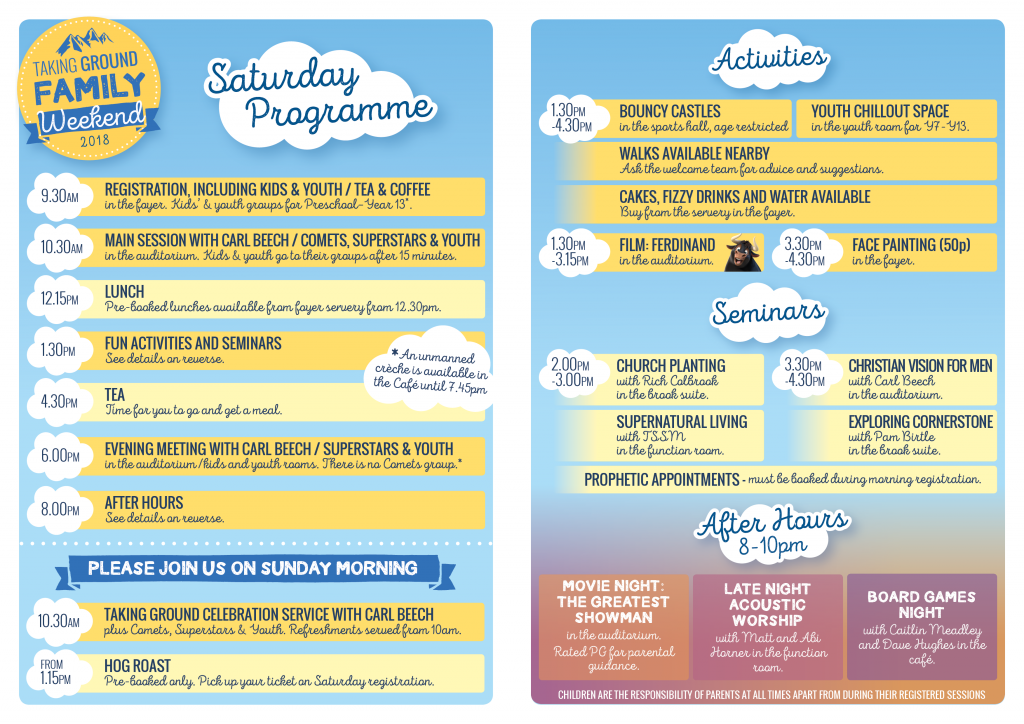 With the location move and running the event on just two days, we won't incur the same running costs as the camp meaning you can enjoy this weekend for even less!
Prices include all sessions and activities, plus tea and coffee throughout Saturday and on Sunday morning.
You will need to plan your own evening meal for Saturday.
NB: There is no charge for the celebration service on its own, as this is in place of TVC Church's normal Sunday service, however if you wish to attend any portion of the Saturday or the hog roast after Sunday's service a ticket must be purchased.
£1
Child/Youth (3-18)
(Event only – limited spaces)
EXTRAS – DEADLINE PASSED
Sunday Hog Roast: £5
Saturday Packed Lunch: £4
The Oakwood Centre, base of TVC Church, in Teesside has been used for many years for regional celebrations. Previously a conference centre, it has a large capacity and many rooms perfect for holding different groups and meetings. The centre has its own large car park which is free.
If you are travelling and wish to stay overnight, there are many options within driving distance, including nearby caravan sites if you wish to bring your accommodation with you! Please contact admin@tvcchurch.org.uk for more details on this.